Red

Nicknames

[Unknown]

Faction

Porno Droid/Android Girl

Gender

Female

Age

[Unknown]

Features

Red wig

Status

Deceased

Birth Date

[Unknown]

Affiliates

Blue

Weaknesses

Blue, Battery Power
Red (comic book) is an obsolete porno droid in love with Blue. Blue helps Red with her battery problem by buying plus, using the money Blue got from ....working. Red's battery will not hold a charge, so her and Blue try to escape Battery City.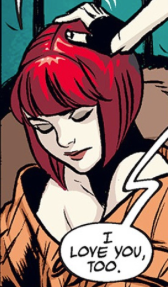 Ad blocker interference detected!
Wikia is a free-to-use site that makes money from advertising. We have a modified experience for viewers using ad blockers

Wikia is not accessible if you've made further modifications. Remove the custom ad blocker rule(s) and the page will load as expected.