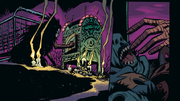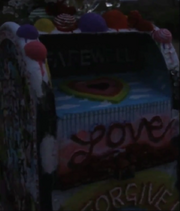 WARNING: CONTAINS MAJOR SPOILERS FOR THE TRUE LIVES OF THE FABULOUS KILLJOYS COMICS
The Mailbox Shrine is an old world mail box decorated as an alter to the dead. Letters placed inside may reach loved ones in the afterlife and masks placed inside supposedly let the Phoenix Witch help guide the former wearer's soul to the afterlife. In the comic, several masks of both Killjoys and Draculoids, including Party Poison's, are placed in the mailbox.[1][2]
The mailbox is seen in the "Na Na Na (Na Na Na Na Na Na Na Na Na)" music video where The Girl sends a letter to her dead mother and in the comic "The True Lives of the Fabulous Killjoys". DJ Cherri Cola mentions the girl having sent the letter to her mother in the comics and frequently puts masks into the mailbox.[2]
References
Edit
↑

The True Lives of the Fabulous Killjoys comic, issue 6