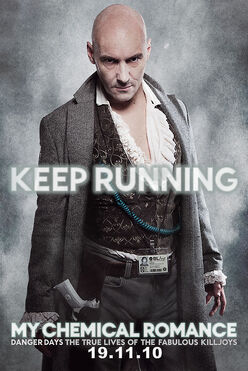 Korse was the former head hitman of BL/ind's SCARECROW unit. He led a team of Draculoids in their hunt for rebels, miscreants, and others that threaten the peace of Battery City in the Zones. Korse is portrayed by Grant Morrison.
Korse is responsible for the direct death of Party Poison and the indirect deaths of the rest of the Killjoys.[1][2]
Much of Korse's past is unknown, but he was originally a brighter, more creative child who was abused by his father for not acting "man" enough. He would still have dreams about the abuse as an adult.[2] Korse shows immense guilt after killing Party Poison and, some years after the deaths of the Killjoys, falls in love with a man who he meets in secret in the Battery City Privacy Gardens. The emotions he gains as a result, deemed unfitting for a scarecrow, leads to his position at SCARECROW being revoked.[3] His lover is discovered and killed after Korse lets Blue escape from a BLI/nd pursuit and he is sent to have his emotions removed.[4]
Originally resigning himself to his fate, his spirit is recharged with righteous anger after the BLI/nd head implies that his relationship with his lover meant that something was wrong with him and escapes to find her.[5] He confronts the head of BLI/nd about her actions and resists her manipulations. As Battery City falls to the efforts of The Girl, Blue, and DESTROYA, he chooses to spare the desperate head after she asked him to kill her. He's last seen driving out into the desert with a picture of him and his lover on the sun visor.[6][7]
Events in the SING video indicate that he may be partly cybernetic or otherwise manipulated by radio control.
References
Edit