Jet Star

Name:
Jet Star
Nickname:
Jet, Princess Fro Fro,Afrobama
Faction:
Killjoys
Gender:
Male
Age:
20-30
Features:
Some Smexy Lips,Curly Hair,Eyebrows like Satan,And A Noice Ass
Status:
Deceased [November 18th, 2019]
Birth Date:
July 15th
Affiliates:
The Fabulous Killjoys
Weakness:
The Girl
Jet Star was one of the founding members of the Fabulous Killjoys. He is played by My Chemical Romance (MCR) guitarist Ray Toro. Jet Star is most often seen wearing a black jacket with an American flag on the back, a lightning bolt gas helmet and sunglasses, though he has been portrayed in some media as wearing an eye patch rather than glasses.
He seems to be a poor shooter. This could be because he is missing an eye, although this seems to be an inconsistency. He is also implied to be the main caretaker of The Girl.
He, along with the rest of the Killjoys, died on the 18th November 2019, while at the BLI. Headquarters saving The Girl.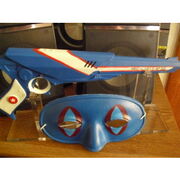 Ad blocker interference detected!
Wikia is a free-to-use site that makes money from advertising. We have a modified experience for viewers using ad blockers

Wikia is not accessible if you've made further modifications. Remove the custom ad blocker rule(s) and the page will load as expected.