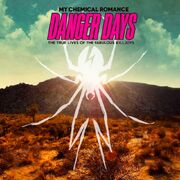 Welcome to California 2019
Danger Days: The True Lives of the Fabulous Killjoys is the 2010 album release from My Chemical Romance detailing the junk punk future of Better Living Industries enforced conformity and the zone running rebels that oppose them.
This wiki aims to capture details of this world for gamers, fan fiction writers, and anyone that wants to delve further into the California 2019 setting.
Okay, motorbabies! I've seeded a few entries to get this started. Make some noise!
Then check out the --> Works in Progress <-- to see what we're working on.
See all the latest additions here.