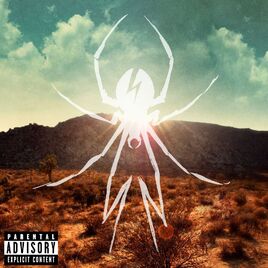 Danger Days: The True Lives of the Fabulous Killjoys is a concept album released on November 22nd, 2010. It is the fourth (and final) album by the band My Chemical Romance.
Track List
Edit
Look Alive, Sunshine (0:29)
Na Na Na (Na Na Na Na Na Na Na Na Na) (3:35)
Bulletproof Heart (4:55)
SING (4:29)
Planetary (Go!) (4:06)
The Only Hope for Me Is You (4:32)
Jet-Star and the Kobra Kid-Traffic Report (0:26)
Party Poison (3:35)
Save Yourself, I'll Hold Them Back (3:49)
S-C-A-R-E-C-R-O-W (4:27)
Summertime (4:06)
Destroya (4:32)
The Kids from Yesterday (5:24)
Goodnite, Dr. Death (1:58)
Vampire Money (3:37)
We Don't Need Another Song About California (iTunes Deluxe Version Bonus Track) (4:30)
Zero Percent (Japanese Version Bonus Track) (2:47)
Section heading
Edit
Write the second section of your article here. Don't forget to add a category, to help people find the article.