NOTE: THIS WIKI CONTAINS SPOILERS OF THE TRUE LIVES OF THE FABULOUS KILLJOYS COMIC.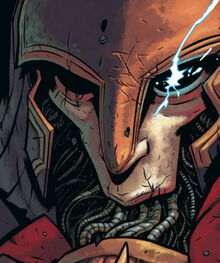 DESTROYA is a massive robot with an unknown history to most people in the Zones and Battery City alike. The DESTROYA is regarded as a god like machine by the droids, foretold in the Graffiti Bible to free the them from their servitude in Battery City. DESTROYA is actually an abandoned Better Living Industries experiment due to the robot being "too large to manage"; later BL/ind droids were scaled down due to this.[1] DESTROYA exists in a major state of disrepair with the lower half of its body gone and its eyes in a hollow state, enough so that other Zoners like The Girl could hide in its head.[2][3]
In 2039, Blue reactivated DESTROYA, taking it to Battery City in her grief after the death of Red to free the droids, thereby fulfilling the prophecy in the Graffiti Bible.[1][3]
DESTROYA's downfall due to being "too large to manage" might be a reference to the square cube law, the scientific principle that makes anime-style giant robots impossible in real life. Gerard Way would later incorporate giant robots in Edge of Spider-Verse #5, reimagining the Spider-Man mythos as a anime-influenced giant robot story, as part of the Spider-Verse crossover event.
References
Edit
↑

The True Lives of the Fabulous Killjoys comic, issue 2